Acrylic Display Pedestal
WeProFab is your reliable source of acrylic display pedestals in China. We can produce durable, long-lasting attractiveness. Ideal for retail displays, galleries, professional events, private collection displays, etc. Purchase now!
OEM WeProFab Acrylic Display Pedestal to Delight Your Customers
WeProFab acrylic display pedestal is made from high-grade acrylic sheets. Being one of the professional manufacturers, we can supply a wide range of sizes, shapes, colors, thicknesses, etc. Check it now!
Black Acrylic Display Pedestal
Weprofab offers a black acrylic display pedestal that can provide a polished and refined foundation for your customer's item. We offer convenient and trendy products.
Clear Acrylic Display Pedestal
We have a wide range of products and services for a clear acrylic display pedestals that you can have for affordable prices. We can assure you that it is competitive in the international market.
5-Pedestal Acrylic Display Stand
We are capable of developing a 5-pedestal acrylic display stand for your business. Our company can produce products with your brand name or company name on it.
36" Square Acrylic Display Pedestal
Weprofab 36" square acrylic display pedestal is your innovative way to enhance or increase your market sales in the both domestic and international markets.
Free standing LED Light Acrylic Display Pedestal
We have the best products and services in freestanding LED light acrylic display pedestal. Weprofab offers perfection by all means.
Tiered Acrylic Pedestal Display
Weprofab has an amazing tiered acrylic pedestal display that offers more innovative and advanced product displays. It will surely fit your customer's taste.
WeProFab: Your Trusted Acrylic Display Pedestal Manufacturer
WeProFab offers a full capacity of plastic fabrication that can give you a one-stop solution for an acrylic display pedestals. As a joint-venture company between WeeTect Material Ltd., and a local fabrication manufacturer in China., we can provide complete service.
WeProFab acrylic display pedestal ideal to use in public and private spaces, including galleries, decoration, architecture, merchandise, etc. We can help you choose the right configuration for your acrylic display pedestal needs. We have pedestals to suit both your budget and your aesthetic.
Send us an inquiry now; we will give you back something different!
Why WeProFab Acrylic Display Pedestal
WeProFab is a professional manufacturer of acrylic display pedestal in China. We manufacture all kinds of clear acrylic pedestals for broad commercial and industrial applications.
It is perfect to use for professional events, retail displays, galleries, exhibits, museums, retail, and so on. You can find the best acrylic display pedestal that suits your business needs!
WeProFab acrylic display pedestal offers long-lasting beauty in your displays It creates high clarity visual sense of your shop. You can advertise your goods in an elegant way.
Plus, the pedestal offers durability ideal for long-term use. You can display your collectibles., either, mini action figures, jewelry, tech components, home decor, it will attract more customers.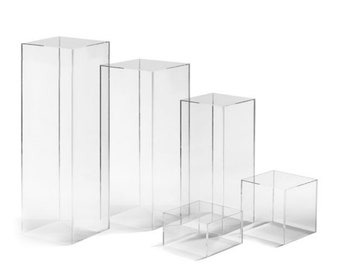 If you also need an acrylic display pedestal for your private collection, Weprofab acrylic display pedestal is your perfect choice. Our pedestals have been chosen by many collectors and professionals'. You can shop a wide variety of acrylic display pedestals at WeProFab.
Available in multiple styles, sizes, designs, thicknesses, and colors (black, white, or clear). Our large selection of acrylic display pedestal can be avail at wholesale price, as the factory-direct rate you can surely get product suits your budget. Even with small acrylic pedestal quantities, we offer the same affordability.
WeProFab acrylic display pedestal is also ideal to showcase any type of product in special events, office, retail, or even home settings. Its elegant look will blend into your home or office decor. With WeProFab, you can find perfect solutions to fulfill your display need.
If ever you can't find the perfect match for your business, you can speak to our team, we will help you and introduce other ways.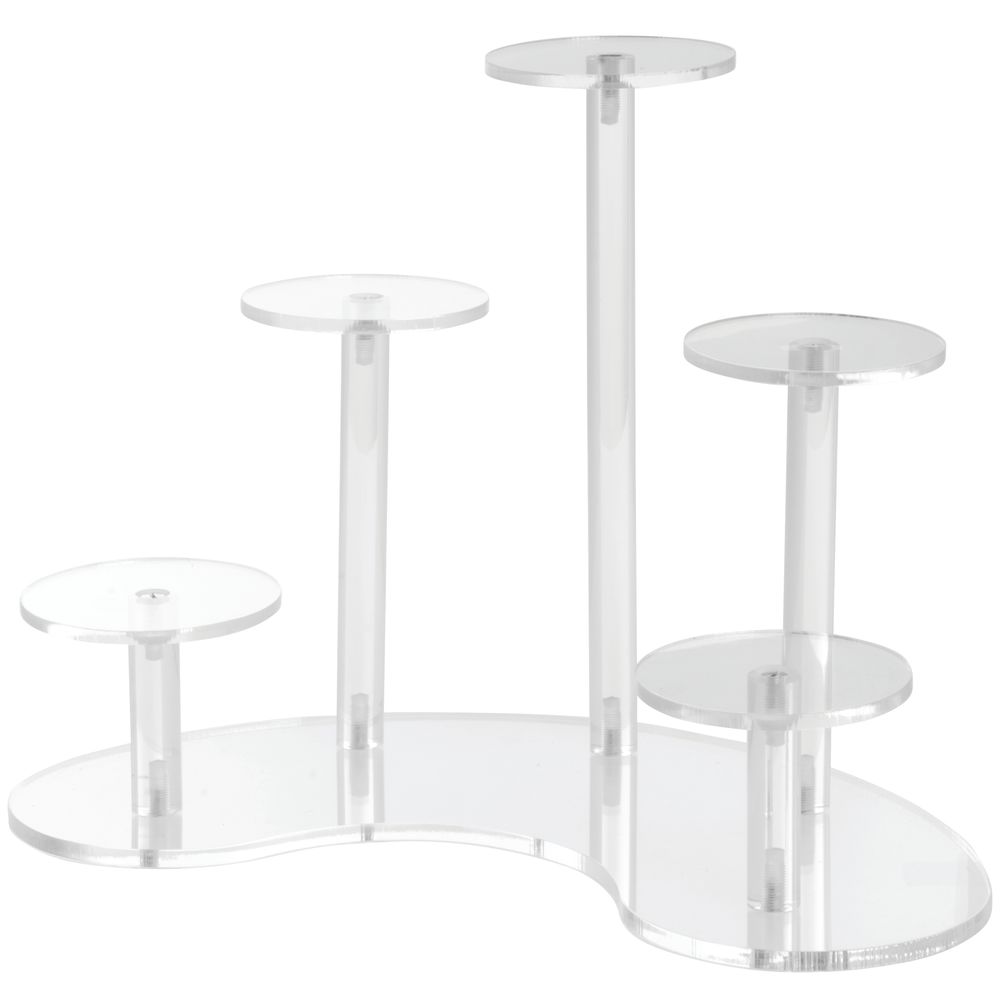 Whether you need a special design acrylic display pedestal for a particular event or project, you can still depend on WeProFab. Yes! We can custom acrylic display pedestal to fit your specific requirements.
We offer endless possibilities with our custom design. Please contact us with your specifications. You can send drawings or any layout. We can create your design, from conceptualization to finished product, all done on one roof.
All acrylic display pedestals are guaranteed by ISO, RoHS, CE, and leading industry standards. You can assure the product quality reached the required criteria. Our acrylic display pedestal is a reliable and cost-effective solution. Excellent customer service is our main priority here at Wepro.
WeProFab offers a high-quality and innovative acrylic display pedestal that will protect your fragile goods from damage. They are also able to hold smaller items, showcase them elegantly!
The WeProFab acrylic display pedestal comes in multiple size options including 30cm, 60cm, 90cm and 120cm. The square top measures are 30cm x 30cm or 40cm x 40cm. There are more things to be discussed.
For further information on our products, or to discuss your particular requirements, get in touch with our customer-friendly team today.